Two favourites of the Ha-Ra Cleaning Team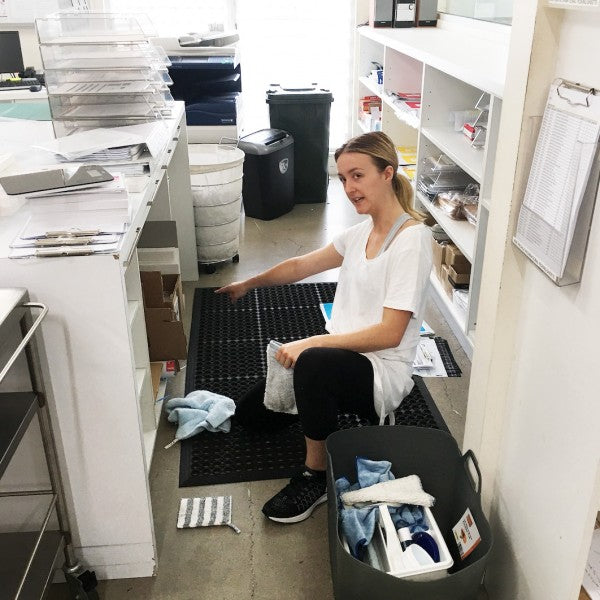 Two of the Ha-Ra Cleaning Crew's top picks
Bindy's Cleaning Team introducing their favourite chemical-free cleaning products
Two favourites of the Ha-Ra Cleaning Team:
The "Dry Dusting Floor Pad" is the perfect cleaning and dusting tool to reach high ceilings. 

The "Mach 6 Glove" is a great All-Rounder suitable for cleaning smooth surfaces in the convenience of a Glove. 
Featuring a patented technology exclusively developed by Ha-Ra® the chemical-free Ha-Ra Floor Cleaning System gives you 40% more cleaning power with 40% less effort while cleaning 30% faster than other products. This is achieved by the unique 6-chamber design which distributes optimum pressure across the whole surface of the micro-fibre pad. The ergonomic swivel design means you can clean floors and skirting boards or walls and ceilings without having to bend down, the handle length of 1.4m means you can keep a straight posture and the stem thickness of 32 mm has been ergonomically tailored to the wrist. 

The Mach 6 Glove is a great all-rounder suitable for cleaning smooth surfaces in the convenience of a glove.The cleaning power of the Mach 6 Glove is created by the action of the glove itself: when you wipe a surface with the glove it makes the bubbles of water burst, creating high intensity cleaning power that deep cleans. As the glove is highly absorbent, you will easily remove any dirt and bacteria.

Keep in mind: You are more efficient when you have the tools you need at the time you need them, make this the rule for your cleaning and have all your products in a Cleaning Crate, organised and handy for when you need them. 
This is especially useful for cleaning your windows and screens around the house as you can carry a bottle of water in a compartment, so you can easily wet the window cleaner when needed. Place all your Ha-Ra cleaning equipment in the Cleaning Crate, store them when you are not using them and carry the crate around while you are cleaning.