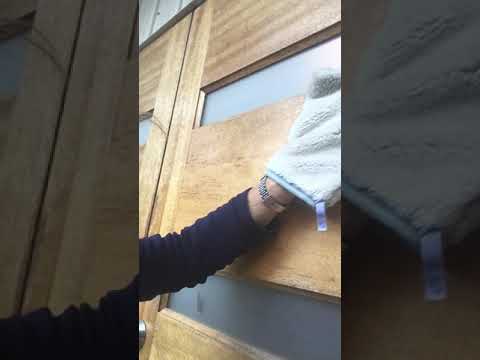 Hedgehog Cleaning Glove
Invest in a Hedgehog Cleaning Glove and never look back.
The Hedgehog Glove is a high-tech glove for almost everything. It delivers high power kitchen and bathroom cleaning and drying with the convenience of a glove. It features nanofibres, about 35 million actually, which means you can tackle the dirty surfaces in the kitchen or the bathroom and get results in less time and with less effort than with other cleaning options. The blue side is designed to tear through the dirt, while the white side dries.
The blue and white Hedgehog side loosens dirt, the white side traps it and is ideal for wiping without leaving streaks

The finest high-quality microfibre for the best dirt pick-up, enormous water absorption and the most efficient cleaning result

Universal use: White fibres for gentle, streak-free cleaning and Hedgehog fibres for stubborn dirt 

Fine bristles for brillant cleaning results 

Quality made in Germany 
Composition
Top: 100% polyester, pile height 6mm. Combining blue monofibres with white nanofibres. Bottom: 100% polyester, tightly woven, pile height 8mm. White nano fibres.
How to use
Use the Hedgehog glove wet and add some Ha-Ra Protective Formula or Saponella for very dirty/greasy surfaces.
Where to use
This product is suited to the kitchen as it effortlessly cleans multiple surfaces and products such as cook tops, ovens, pots, sinks, stainless steel surfaces and utensils. It is also a great solution for bathroom as it removes dirty tile grout.
What do other people think about the Hedgehog Glove:
"I always use a microfibre glove for cleaning my bathroom - no need for harsh, smelly, expensive chemicals - my glove has lasted for years!" N. Pengilly

"As a business we have been using Ha-Ra products for nearly 20 years.The durability and the life span of the cloths is amazing. Most favourite cloth was the scrub cloth (discontinued) and has always been the polishing cloth. Love all the mits for their efficiency and ability to do the job effectively. Knowledge accompanied with great service dispensed with humour by Bindy and Leon has always been a part of this successful business." Marion Holiday Park

"Ha-Ra provides the best cleaning products. The quality is outstanding and I have been using my Gloves for many years without replacement." Anita

"Great products, uncomplicated purchase process, great promotions, made in Germany, great value for money, what more could you want?" Jessi

"I have tried various different bathroom cleaning products and must say that these Gloves are fantastic. We had a new shower screen installed and since I have been using the Hedgehog Glove for general maintenance and cleaning, I haven't had any issues with hard water deposits. Would definitely buy again!" Margot

"From dirty front door screens. After using HA-RA product they look brand new. Fantastic product well worth the investment. Thank you HA-RA." Christine

"Ha-Ra Gloves are the best you can get in Australia. I've tried various brand for my cleaning business where we use commercial cleaning products, but nothing comes close to the quality of Ha-Ra" Johanna

"I love the fact that you can clean with one side and dry off with the other side. Very quick and great results." Marg